09/05/2011
Speaking about yoga, there is one that can NOT stand it. My cat.
He starts by scratching the yoga mat. Then he lies down on the middle of it. Then he comes and hits his head against mine when I am an all four.
When he is done doing all that, he attacks me, and not with the claws, the teeth!!
And apart from locking him up in the bedroom, he will keep on attacking me; happens every time…
And he never ever attacks me otherwise! Funny no?
08:00 Posted in My stories in India | Permalink | Comments (0) | Tags: india, yoga, cat |
Facebook | |
09/03/2011
As you may know, I am in my "yoga" period. After having practiced intensely (i.e daily) during the holidays, I had enough and went on a two-week break. I nevertheless found the strength to get up on a Tuesday morning and to resume my classes. And I gave it all I had!! Which made my muscles incredibly sore for the next 3 days!!
Here is "the" yoga position, Surya Namaskar (or Salutation to the Sun), in Delhi airport.
Apparently very complete exercise and not quite as easy as it may look (at least as far as I am concerned)…
For the purists, it should be done at sun rise or sun set (and bowing to the sun, you will have guessed it!).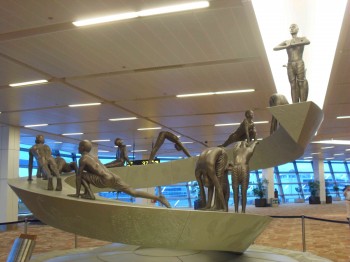 09/01/2011
Here we are, it is the end of the harvest, the beginning of the festivities. When the rain will stop it and then we will fully enjoy!!
We entered the Ganapati time, the festival of Ganesh which I am quite familiar with nowll! (see http://www.indiansamourai.com/search/ganesh ).
And this year, while going to see the Krishna celebrations, I discovered a Ganesh workshop near Elphinston station. And not just any Ganesh, giant ones, those of the temples.
Simply impressive…
08:00 Posted in Incredible India! | Permalink | Comments (0) | Tags: india, mumbai, elphinston, ganesh, ganapati, festival |
Facebook | |