11/08/2011
On October 12th I happened to watch the news and to see an outraged journalist asking that "how could the UK plan to tighten immigration rules?" Yeah what the hell huh? hat the least they owe the Indians!!
The story here is that till now, "temporary immigration led to an automatic right to settle here". So if you are a foreigner and you have worked in the UK for 5 years, you can stay without a visa. And now they want to control the immigration of workers.
Before crying wolf, it would be interesting to look at your own immigration rules. Because India is also trying to prevent workers from coming to India and "steal jobs from Indians"! Basically, to prevent Chinese (and some other Asian) laborers to come and take the jobs of Indians, India makes it very difficult for any foreigner to get an employment visa. And then they complain!
So not only do the Indian authorities make it hell to get an employment visa (you need to earn a minimum of US $ 25, 000 per annum,
except if
you are (a) Ethnic cooks,(b) Language teachers (other than English Language Teachers)/Translators, (c) Staff working for the concerned Embassy/High Commission in India and (d) Foreigners coming for honorary work (without Salary) with NGOs registered in the country). And here is what happened when you have renewed your visa 4 times (and thus stayed 5 years working in India)!
Now you go back home and get a new visa my friend!!
But I guess that since we can count around 50,000 foreign workers in India (out of which 1/3rd is Chinese) against 5 million Indians working abroad, the rules of visa to India do not interest Indians much!
PS: Foreigners working in India
I found it impossible to find out how many foreigners live in India and how many foreigners work in India!
I found a figure of
08:00 Posted in Expatriation (in India and in other countries) | Permalink | Comments (0) | Tags: india, foreigners working in india, indians working abroad, visa, employement visa, business visa, indian diaspora, chinese workers in india, chinese |
Facebook | |
11/05/2011
…I arrived in India…
Here are 2 dialogues quite typical when non-Indian people ask me for how long I have been in India. The 1st one is usually with a non-Indian who 1. has never been in India, 2. visited India on holidays and 3. has just arrived in India. And the 2nd is with a non-Indian person who has had some brush with India…
- 5 years?? You must be in love with India no?
- Euh… No. I don't adore her, I don't hate her, I have just found a (small) place here.
- 5 years?? How did you do it?? (meaning, how are you still holding on?)
- Euh… I have found a professional and affective balance here. And after 5 years of introspection – I spend a lot of my time with myself! – I think I may have even found some kind of inner balance!!

To celebrate, I decided to select a picture of every place I have been to during my personal trips. It took me a lot of time but gave me the opportunity to kind of travel there a second time and moreover to realise that I have seen some out-of-this-world things!! Maybe it is also why I have been staying ;)
So here is my patchwork (there is an album (see on the right) where the detail of the places where the pictures were taken is mentioned); there are pictures that meant something to me, not necessarily very touristic and none has been photoshoped:
http://www.indiansamourai.com/album/india-in-100-pics/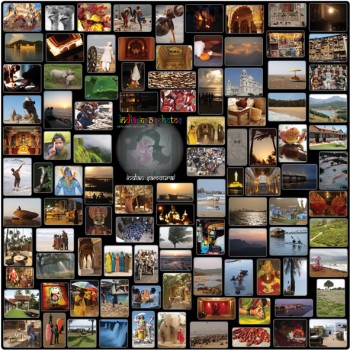 Click on the picture to enlarge it.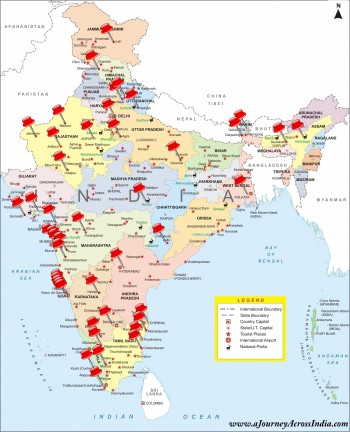 Places I have visited out of personal interest...

08:00 Posted in Expatriation (in India and in other countries), Incredible India!, My stories in India, Travelling (in India!) | Permalink | Comments (0) | Tags: india, anniversary, pictures, india map, places visited |
Facebook | |
09/07/2011
In India, it is important to choose your building well… And its inhabitants!! Because what they call "society" will not let you free… All the bored people (the retired ones, the housewives, the servants, the watchmen) will find your life worthy of being watched…
This is how, in Pune, I had a hard-time finding a "society" that would accept a non-married French-Indian couple. The landlords were cool about it. But they had to ask the permission of the "society"!!
Then, once I arrived in Mumbai, I moved into a Sindhi "society" – Sindhis are the Hindus who came from Pakistan after the partition. Nothing special to say apart from the fact they all were Sindhis.
And then, when I shifted to my new building, I was very happy to discover a catholic "society" - I thought that they would be a little less "conservative" that the others but well, not really. In short, in my building, there are only Rodriguez, Pereira, Rebello etc. families and this makes me laugh every time I see the board with all the names! And then, one fine day, I get a note from my "society" stating that the annual meeting took place and in introduction: "after praying, we started the meeting…" Would be interesting to try that in France!
We are also regularly invited for masses (for birthdays, deaths etc) in our small garden. At least this brings people together...
The most constraining "societies" might be the Muslim ones, from what I heard. A French friend was accepted in one of them only because her husband was Muslim. And in another one, the French guy promised not to bring in alcohol nor pork.
No judgment here. It is just a little surprising, at the beginning.
00:00 Posted in Expatriation (in India and in other countries), Incredible India! | Permalink | Comments (0) | Tags: india, societies, religion |
Facebook | |