12/18/2011
The other day I was walking down the street, all light – and I was that I must have lost some weight which I remember because it does not happen so often!!
A guy stops me. Bollywood style: tight jeans, muscles, sunglasses, ears pierced. I'm listening to my music full volume so I could pretend I haven't heard him but I decide to have some fun and see what he wants.
He gives me his card. He is a power yoga teacher at a gym club nearby, the club of the stars. And his cards indicates that he is a celebrity trainer. He asks me if I go to parties, if I "show my face"?? Ah no. He tells me that power yoga is good, if I want to learn I can just call him and get a few lessons free. And he adds "it is good to lose weight". Wait, wait, wait, do you mean I need to lose weight? "Ah yeah of course".
Ah yeah of course. You take your card back my friend, I insist. And you leave me alone.
Thank you.
It is no better than a customer two days back who comes in the meeting room. Hello. How are you? You have put on weight no?
…………….
08:00 Posted in My stories in India | Permalink | Comments (0) | Tags: india, gym, exercise, weight |
Facebook | |
12/08/2011
Four years ago I met a girl in Pune. Sweet fun girl. Sikh girl dating a Christian guy for like 4 years. Studying dentistry. We went for a few drinks. Normal student life…
Then one day she went home in Punjab. Told her mum about the boyfriend. Decision was taken: you finish your semester and you come back home. It then took a year to find the husband. The kind of guy who studied 7 years in the US, did all his rebel things and then came back to marry the Indian girl (who has some morality compared to those white girls) who "should stay at home and help my mum". Deal was sealed. No more work. No more nothing. On top of that, she had to adjust to living in a joint family (big big family) she who is an army daughter (an army officer keeps changing posts and travels everywhere with only the wife and kids). I know it was not so easy for her. Maybe she felt fortunate because he is from one of the richest Sikh family in Mumbai? In any case, being the good daughter who obeyed her mum, she could only do everything to adjust…
Though it is beyond my understanding, I never judged. Her life, not mine.
And then today, we had this amazing (to me) text exchange:
- Hey sweets, wanna meet up for coffee in the evening!
- Sure. 7 at Moshe?
- Can u make it at 6?
- Not sure I have a meeting at 5
- Then 7 at my place: what say?
- You have timings to come home?
- Yup, can go out post sunset only with hubby and hes out. Sounds pretty strange na! how life changes! Its perfectly fine at my place, my mom in law gets worried otherwise! what say?
- It sounds horrible. We can meet in the week end, better
- He he he, are sweet heart its not what ur thinking! precaution is better than cure!every one in the families is fine!ull surely like them n uve not seen my place,wanna show u my marriage pics as well.
- I'm sorry this is crap. We are talking about Mumbai at 7 PM and 500 meters from your house… But well if you like it, good for you!
- Sweets take a chill pill, life is a roller coaster ride! Whats the probs in coming home?
-
- Okkk,well catch up on the wk end for sure!
-
Well she did not end up being a dentist, but at least a philosopher…!!
10:32 Posted in My stories in India | Permalink | Comments (0) | Tags: india, marriage, joint family, sikh, christian, tradition |
Facebook | |
11/05/2011
…I arrived in India…
Here are 2 dialogues quite typical when non-Indian people ask me for how long I have been in India. The 1st one is usually with a non-Indian who 1. has never been in India, 2. visited India on holidays and 3. has just arrived in India. And the 2nd is with a non-Indian person who has had some brush with India…
- 5 years?? You must be in love with India no?
- Euh… No. I don't adore her, I don't hate her, I have just found a (small) place here.
- 5 years?? How did you do it?? (meaning, how are you still holding on?)
- Euh… I have found a professional and affective balance here. And after 5 years of introspection – I spend a lot of my time with myself! – I think I may have even found some kind of inner balance!!

To celebrate, I decided to select a picture of every place I have been to during my personal trips. It took me a lot of time but gave me the opportunity to kind of travel there a second time and moreover to realise that I have seen some out-of-this-world things!! Maybe it is also why I have been staying ;)
So here is my patchwork (there is an album (see on the right) where the detail of the places where the pictures were taken is mentioned); there are pictures that meant something to me, not necessarily very touristic and none has been photoshoped:
http://www.indiansamourai.com/album/india-in-100-pics/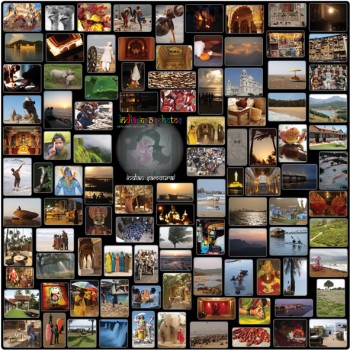 Click on the picture to enlarge it.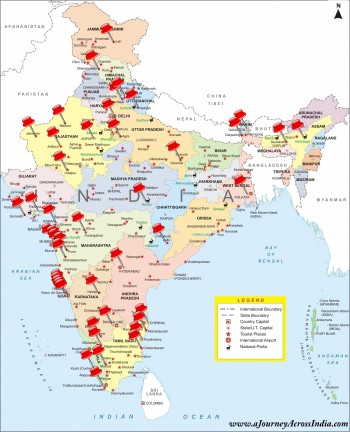 Places I have visited out of personal interest...

08:00 Posted in Expatriation (in India and in other countries), Incredible India!, My stories in India, Travelling (in India!) | Permalink | Comments (0) | Tags: india, anniversary, pictures, india map, places visited |
Facebook | |