02/04/2012
It is now official, I have left Mumbai… A chapter that closed… For a new one to open in… Delhi!

My cat flew in, my cartons arrived on time and here we go!

No regrets, even no tears: I really enjoyed this city in the last three years, did everything I wanted to (have drinks watching the sea, go knee down in the water for Ganapati festival, walk under the monsoon rain, visit Dharavi slum, act in ads, get initiated to yoga, give up yoga, take Hindi classes, go to local theatres to see Hindi movies, and many other merry local activities)…
I will miss my (few but) very very dear friends. But I will finally be with my favourite Indian!

I stay in the same company, and I add an activity which should bring a lot of challenges ;)
I indeed was warned against Delhi and the North-Indians (there is some kind of animosity between Mumbai and Delhi) but so far so good. Except that I am cold!! So cold…

To turn the page, a photo and some videos:


In Bandra, easy going...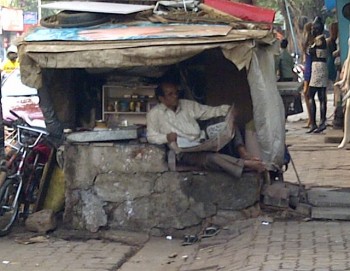 A last drink in Juhu, with a French background music!!

View from the rickshaw of the Khar village that I used to cross every day, and with a wedding!

Un chauffeur de rickshaw qui chante son amour pour Jésus!
08:00 Posted in My stories in India | Permalink | Comments (0) | Tags: india, mumbai, delhi, moving out |
Facebook | |
12/18/2011
The other day I was walking down the street, all light – and I was that I must have lost some weight which I remember because it does not happen so often!!
A guy stops me. Bollywood style: tight jeans, muscles, sunglasses, ears pierced. I'm listening to my music full volume so I could pretend I haven't heard him but I decide to have some fun and see what he wants.
He gives me his card. He is a power yoga teacher at a gym club nearby, the club of the stars. And his cards indicates that he is a celebrity trainer. He asks me if I go to parties, if I "show my face"?? Ah no. He tells me that power yoga is good, if I want to learn I can just call him and get a few lessons free. And he adds "it is good to lose weight". Wait, wait, wait, do you mean I need to lose weight? "Ah yeah of course".
Ah yeah of course. You take your card back my friend, I insist. And you leave me alone.
Thank you.
It is no better than a customer two days back who comes in the meeting room. Hello. How are you? You have put on weight no?
…………….
08:00 Posted in My stories in India | Permalink | Comments (0) | Tags: india, gym, exercise, weight |
Facebook | |
12/08/2011
Four years ago I met a girl in Pune. Sweet fun girl. Sikh girl dating a Christian guy for like 4 years. Studying dentistry. We went for a few drinks. Normal student life…
Then one day she went home in Punjab. Told her mum about the boyfriend. Decision was taken: you finish your semester and you come back home. It then took a year to find the husband. The kind of guy who studied 7 years in the US, did all his rebel things and then came back to marry the Indian girl (who has some morality compared to those white girls) who "should stay at home and help my mum". Deal was sealed. No more work. No more nothing. On top of that, she had to adjust to living in a joint family (big big family) she who is an army daughter (an army officer keeps changing posts and travels everywhere with only the wife and kids). I know it was not so easy for her. Maybe she felt fortunate because he is from one of the richest Sikh family in Mumbai? In any case, being the good daughter who obeyed her mum, she could only do everything to adjust…
Though it is beyond my understanding, I never judged. Her life, not mine.
And then today, we had this amazing (to me) text exchange:
- Hey sweets, wanna meet up for coffee in the evening!
- Sure. 7 at Moshe?
- Can u make it at 6?
- Not sure I have a meeting at 5
- Then 7 at my place: what say?
- You have timings to come home?
- Yup, can go out post sunset only with hubby and hes out. Sounds pretty strange na! how life changes! Its perfectly fine at my place, my mom in law gets worried otherwise! what say?
- It sounds horrible. We can meet in the week end, better
- He he he, are sweet heart its not what ur thinking! precaution is better than cure!every one in the families is fine!ull surely like them n uve not seen my place,wanna show u my marriage pics as well.
- I'm sorry this is crap. We are talking about Mumbai at 7 PM and 500 meters from your house… But well if you like it, good for you!
- Sweets take a chill pill, life is a roller coaster ride! Whats the probs in coming home?
-
- Okkk,well catch up on the wk end for sure!
-
Well she did not end up being a dentist, but at least a philosopher…!!
10:32 Posted in My stories in India | Permalink | Comments (0) | Tags: india, marriage, joint family, sikh, christian, tradition |
Facebook | |