08/17/2015
When you need to breathe – and it happens sometimes (every day?) when you live in Mumbai (see thus article regarding pollution in India) – nothing like Kerala ! And if you have to take a plane, might as well go somewhere beautiful and 'exotic'. You might as well take a plane actually, since getting out of Mumbai by car takes at least one hour and half and the road with the traffic is just depressing.
So one hour and half away from Mumbai (by place) there is Calicut/Kozhikode (the new name), with two daily direct flights. And this is the entrance point to Wayanad that you would reach a 3 hour drive later – yes, you need to work hard to get your Indian getaway!
Less known than Kerala backwaters, Munnar tea plantations, Thekkady wild elephants, Wayanad is as lush and green…

Wayanad is also a famous place for ayurveda. A dream setting for a treatment! Since my parents had tried the experience, the choice of hotel for the following week-end was quite critical: it had to be something nice but without too many people, for a smooth transition back to the 'real' world. Wayanad is known for its 'tree-houses'. We had selected two: Tranquil Resort and Marmalada Springs.
But finally we went to Grassroots: luxury tents in breathtaking nature. And for half the price as other resorts. And we did not regret the choice!! Only 5 tents, a big convivial dining table and a crazy view!! The only 'fla"w' is that who says tent says flimsy barrier to sound. You immediately feel less secluded when you hear the imam* five times a day, the fish monger who sells his produce early morning, the staff listening to techno music, the neighbour switching on TV or a baby crying (mine this time ;-) ).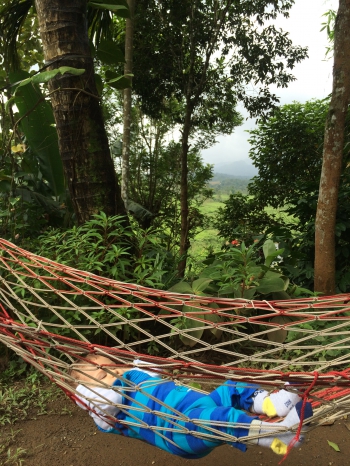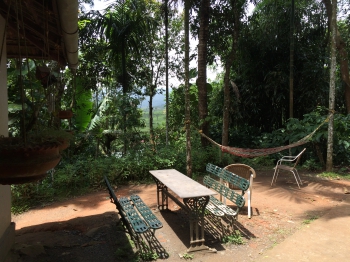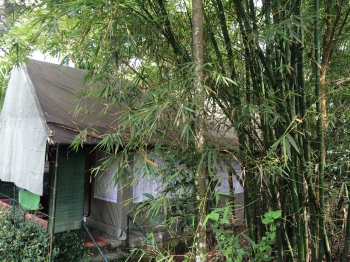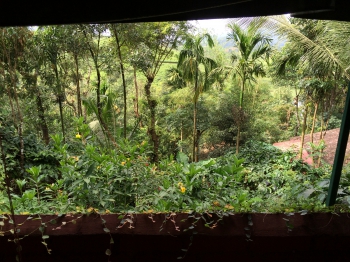 * There are a lot of Muslims in North Kerala – 2 millions in Wayanad, and 79 millions in the entire state (they represent 25% of the population, against 13% at the country level) (source 1, source 2)
So when you get down the plane, you see almost everybody carrying this type of boxes:
Initially I thought it was some kind of aquaguard to purify water but actually no. Asking around we found out that most of the passengers were coming from the Gulf** and were bringing back zam-zam water with them, holy water from Meca.
** More than one fourth of Kerala households have a non-resident worker; and it goes up to three fourths in Muslim households! Also 10% of Kerala population live outside Kerala. In 2007, 85% of the 3 millions of non-resident workers malayali were based in the Gulf. (source)
To finish, they eat some weird stuff there (but not bad): fruits marinated with chilis in salted water: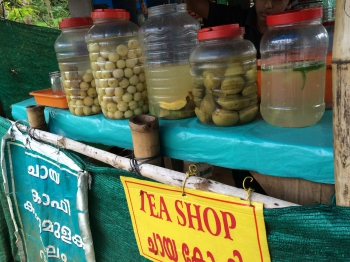 08:00 Posted in Funny things about India in photos, Travelling (in India!) | Permalink | Comments (0) | Tags: india, kerala, calicut, kozhikode, tea plantation, green, grassroots, kalpetta, aurveda, tree houses, pollution, muslims |
Facebook | |
08/03/2015
Be ready!
Mumbai-Delhi. Two cities ten times the size of Slovenia each. Two thousand kilometers. Two hours by plane. Sixty flights per day. Nothing insurmountable! Except that it requires a bit of anticipation. If the delays are not what they used to be a few years ago, they are still frequent between these two mega-cities: when it's not the fog in Delhi it's the rain in Mumbai...
For an appointment at 4:15 PM, I had therefore planned carefully. I would arrive at 1:10 + something unexpected (a one hour flight delay) + 40 minutes by taxi + something unexpected (almost anything that could happen on the road and block us 30 minutes) and I still had a 45 minutes safety gap...
Except that... While it had not rained for more than three weeks, nature unleashed in the night before my
departure! Naively, I thought I could still take a rickshaw but upon the advice of my favorite Indian I booked a Uber (a first!), and left early. I could only get a SUV and thank God for that: the water level was so high that only our car could pass in some passages, where rickshaws drivers, stuck in the middle of the street with water up to the waist, were forced to push their vehicle on the side. And we, while water was coming under the door, we drove through, pushing water as a backhoe snow! Which enabled me to 1. Arrive at the airport and 2. Arrive at the airport in time, and even a little bit early. Early enough to take the time to call back the driver after realizing I had forgotten my umbrella in his car – since it is not permitted to exit the airport after check-in in India, it is the guard who had to go get it for me, the driver having some difficulties locating me behind the glass door! And early enough to buy a phone charger since mine had gone missing. So here I was, finally ready for the flight!
One hour delay at the time of boarding... How grateful I am for my foresight!
Two hours delay at the time of take-off... Why on earth didn't I book an earlier flight?? Okay, don't panic. There is still a small chance that the traffic on the Delhi-Gurgaon road is not huge in early afternoon and that there is no major incident...
Finally I land in Delhi. I jump in a radio-taxi. We rush to Gurgaon and reach in 25 minutes! I am fifteen minutes early which means I can pee, pump some milk, freshen up, put my jacket on. Before all that I inform the desk that I am around, just so they know... An employee comes to meet me immediately and make me follow him. Before I know it, I find myself in the meeting room (hungry, with a full bladder, dishevelled, fearing breast engorgement, my shirt protruding from everywhere, in short completely lost in translation!).
My instructions were strict for this meeting: whatever happens, be on time – German-Swiss take time very seriously. Taking this into account, I had calculated that I should be ready to leave by 5.30 PM (it was planned to last 75 minutes max) and could book a return flight at 7:45. How surprised was I to realise it was 5:55 when I left the room! But no need to get excited, with the delay I experienced in the morning, there is no chance that my flight is on time!
Despite the craziness of the traffic jam (these I-don't-know-how-many-lanes of cars are very impressive on this road), I arrive at 6.45 at the airport, sharp one hour in advance... Except that I am on the phone with a colleague and he won't stop talking. Which is makes it very uneasy to show my e-ticket to the guard... Ten minutes later, I finally hang up and I am immediately told that I am at the wrong terminal! I had completely zapped that Jet Airways flights are not operated with other domestic flights... There seems to be no end to this day!
Another walking-in passenger then offers me to use his car, which leaves me somewhat puzzled. He assures me it's not a problem, it's his office car and anyway I won't find a taxi at the departures... By the time I decide whether to take up the offer, the guard urges me "there, a taxi! Go go!" I spot a white car which is about to leave and stops it. I ask if this is a taxi, and if he can take me to Terminal 3. No problem!! As I can't see a meter, I assume I will have to pay a bomb but it does not matter, I just want to go home! I still ask the driver what kind of taxi this is and the answer is weird: taxis booked online by companies, especially for foreigners. Well... Twenty minutes later I'm at the right departure gate, and not even late, my flight was announced to depart with delay at 8:30 PM. When I ask the driver how much I owe him, he answers – wait for it – "nothing, it was my pleasure to help you". Bah ?? Wait wait wait. Am I really in Delhi? The city with a terrible reputation? And two men offer to help me in the same day? I love my life!
I landed in Mumbai with one hour delay. Found a taxi and got home in an acceptable time considering the weather conditions. It is 11 PM and I'm dead...
08:00 Posted in Expatriation (in India and in other countries), My stories in India, Travelling (in India!) | Permalink | Comments (0) | Tags: india, mumbai, delhi, flight, gurgaon, traffic |
Facebook | |
03/12/2015
08:00 Posted in Funny things about India in videos, Incredible India!, Travelling (in India!) | Permalink | Comments (0) | Tags: india, tourism, video |
Facebook | |