12/16/2011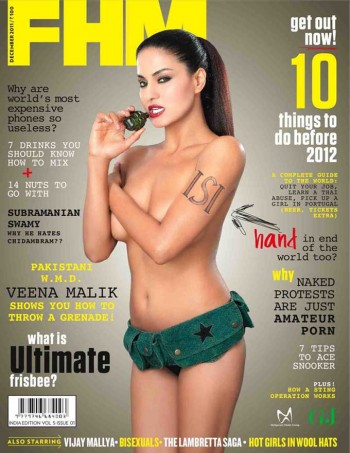 The photo on FHM India website on December 15th (apparently changed on 7th).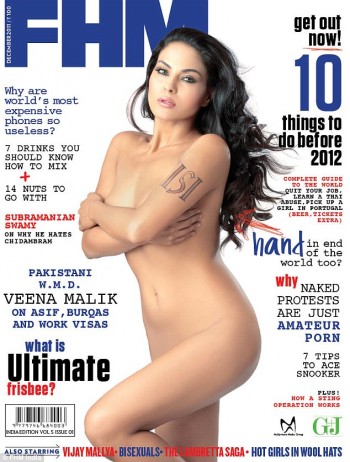 The initial picture on FHM India website early December (and on the paper print).
I have to say, nothing will stop them...
How to make a fuss about a magazine (FHM India in this case)?
You take a Pakistani actress and you put her half-naked on the cover!
Pakistan (and especially his father who has disowned her till further notice) cries wolf because of her nudity (a crime for Muslims), but no one reacts to the fact that she is dressed as a warrior, with a grenade in her mouth! "The Pakistani Veenam Malik shows you how to throw a grenade!"
When you know the tensions between Pakistan and India ...

To understand, it would be like publishing a cover, in a French magazine, in 1950, with a German supermodel wearing a gas mask and quoting: "The German Bertha teaches you how to use gas. "
Good taste no?

For those interested, she attacked the magazine, saying she had not posed nude and it was photoshoped; Mmmhhh ... And then a few days later she accepted an "item role" in a Bollywood film. Yet Dad has disowned her until the photoshop special effect is proved and she swears never to set foot in India again.
So if the Pakistanis see India as the land of debauchery, I dare not even imagine what they think the United States!
Not later than last week, I shocked my Indian boyfriend (not a Muslim) by crossing the hall of a 5-star beach resort wearing a bikini as I was wet and going to fetch my clothes. He could not understand why I would not cover myself. Because it is Goa, a 5-star, I am just passing by and I don't want to wet my tee-shirt. And I am not the kind who likes to show off in a bikini.

Anyway FHM India and Veena Malik managed a good publicity stunt!
08:00 Posted in Non-senses | Permalink | Comments (0) | Tags: india, bollywood, fhm india, pakistan, veena malik, model, cover, nude |
Facebook | |