04/26/2011
2 years ago I went for work to Guwahati, in Assam. I had strictly no idea where Assam was but since there was work there, why not go?
I realised fast enough that I was far, far away from Mumbai. No internet (except in private houses) even with the datacard, constant electricity cut-offs. An incredible number of insects. I was there for work remember, so all this was quite unexpected!!
Then I saw on a map where I was and I thought that it was the first time and the last time...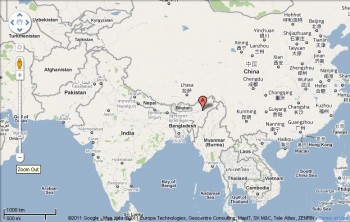 Till the moment my distributor said 2 magic words. Rhinoceros and Brahmaputra. Done, one day I'll go back to Assam...
It took me two years but I did it!!
No need to say, Assam is a difficult place to reach but maybe it is part of what makes it so unique. Probably the most beautiful place I have seen in India!
About 5 hours by plane to reach Guwahati then 6 hours by car to get to the natural park of Kaziranga.
This is the place with the most number of uni-corn rhinoceros in the world. And Indians did a fantastic job: there were only a dozen rhinos left 50 years ago and now there are more than 2,000!!
And they are so confident they won't be disturbed that they don't mind the elephants (carrying the tourists), nor domesticated cows - a good companion to chew grasse...
2,000 is even a greater number when you know that gestation lasts 15 months for a rhino and that they reproduce only once in 8 years (they have to wait for the baby to be grown-up and independant before starting again!).
It is SO peaceful there. Just needed to tell one (Indian) family jabbering on an elephant to please be silent. They got so surprised!! Maybe no one told them that on a wildlife safari it is better to remain quiet?? Minor incident anyway...
Photos speak for themselves...
08:30 Posted in Travelling (in India!) | Permalink | Comments (0) | Tags: india, assam, kaziranga, rhinoceros |
Facebook | |