08/17/2015
When you need to breathe – and it happens sometimes (every day?) when you live in Mumbai (see thus article regarding pollution in India) – nothing like Kerala ! And if you have to take a plane, might as well go somewhere beautiful and 'exotic'. You might as well take a plane actually, since getting out of Mumbai by car takes at least one hour and half and the road with the traffic is just depressing.
So one hour and half away from Mumbai (by place) there is Calicut/Kozhikode (the new name), with two daily direct flights. And this is the entrance point to Wayanad that you would reach a 3 hour drive later – yes, you need to work hard to get your Indian getaway!
Less known than Kerala backwaters, Munnar tea plantations, Thekkady wild elephants, Wayanad is as lush and green…

Wayanad is also a famous place for ayurveda. A dream setting for a treatment! Since my parents had tried the experience, the choice of hotel for the following week-end was quite critical: it had to be something nice but without too many people, for a smooth transition back to the 'real' world. Wayanad is known for its 'tree-houses'. We had selected two: Tranquil Resort and Marmalada Springs.
But finally we went to Grassroots: luxury tents in breathtaking nature. And for half the price as other resorts. And we did not regret the choice!! Only 5 tents, a big convivial dining table and a crazy view!! The only 'fla"w' is that who says tent says flimsy barrier to sound. You immediately feel less secluded when you hear the imam* five times a day, the fish monger who sells his produce early morning, the staff listening to techno music, the neighbour switching on TV or a baby crying (mine this time ;-) ).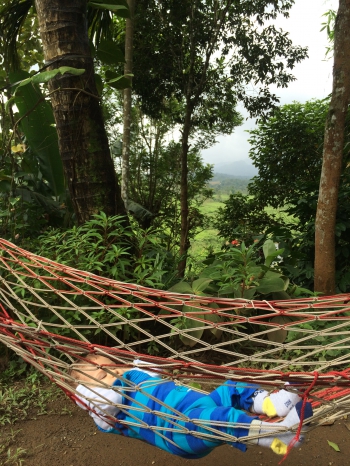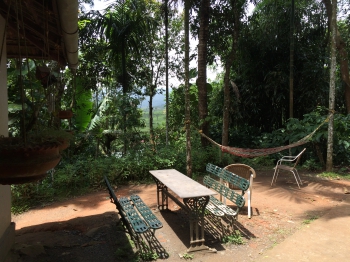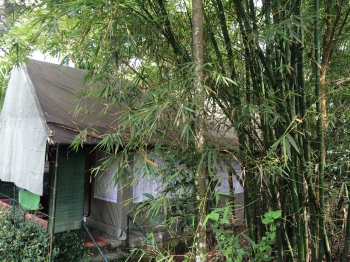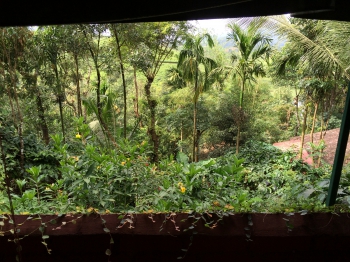 * There are a lot of Muslims in North Kerala – 2 millions in Wayanad, and 79 millions in the entire state (they represent 25% of the population, against 13% at the country level) (source 1, source 2)
So when you get down the plane, you see almost everybody carrying this type of boxes:
Initially I thought it was some kind of aquaguard to purify water but actually no. Asking around we found out that most of the passengers were coming from the Gulf** and were bringing back zam-zam water with them, holy water from Meca.
** More than one fourth of Kerala households have a non-resident worker; and it goes up to three fourths in Muslim households! Also 10% of Kerala population live outside Kerala. In 2007, 85% of the 3 millions of non-resident workers malayali were based in the Gulf. (source)
To finish, they eat some weird stuff there (but not bad): fruits marinated with chilis in salted water: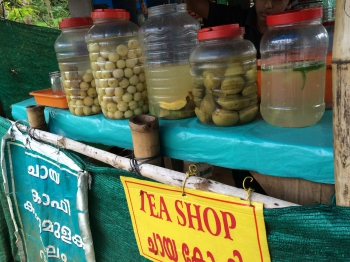 08:00 Posted in Funny things about India in photos, Travelling (in India!) | Permalink | Comments (0) | Tags: india, kerala, calicut, kozhikode, tea plantation, green, grassroots, kalpetta, aurveda, tree houses, pollution, muslims |
Facebook | |