02/04/2012
It is now official, I have left Mumbai… A chapter that closed… For a new one to open in… Delhi!

My cat flew in, my cartons arrived on time and here we go!

No regrets, even no tears: I really enjoyed this city in the last three years, did everything I wanted to (have drinks watching the sea, go knee down in the water for Ganapati festival, walk under the monsoon rain, visit Dharavi slum, act in ads, get initiated to yoga, give up yoga, take Hindi classes, go to local theatres to see Hindi movies, and many other merry local activities)…
I will miss my (few but) very very dear friends. But I will finally be with my favourite Indian!

I stay in the same company, and I add an activity which should bring a lot of challenges ;)
I indeed was warned against Delhi and the North-Indians (there is some kind of animosity between Mumbai and Delhi) but so far so good. Except that I am cold!! So cold…

To turn the page, a photo and some videos:


In Bandra, easy going...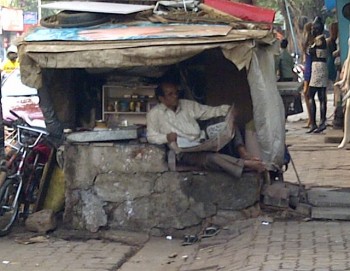 A last drink in Juhu, with a French background music!!

View from the rickshaw of the Khar village that I used to cross every day, and with a wedding!

Un chauffeur de rickshaw qui chante son amour pour Jésus!
08:00 Posted in My stories in India | Permalink | Comments (0) | Tags: india, mumbai, delhi, moving out |
Facebook | |