09/12/2013
I can proudly say that my dad has now become an expert as a tourist travelling the less travelled roads of India (which means going to amazing hotels which are empty because difficult to access, being the only foreigners in the trains etc.). And here is the story that allows me to say that…
The other day my father was having a conversation with a fellow tourist, a French woman in her fifties, visiting India because her daughter was doing an internship here. Otherwise she would have never come, she told us with honesty; not her cup of chai, India…
So my dad wants to test her "touristittude" and goes:
- Have you tried chai (the local beverage made of milk, sugar, and a bit of tea (and cardamom and ginger))?
- Yes, yes.
- But have you tried the real one? Like the one you drink on the side of the road?
- Yes, yes, of course!
- (My sceptical dad insists:) In the dhabas, these small dirty places serving dishes, authentic, tasty and cheap but prepared with complete despise for any hygienic rule? Are you sure?
- Yes, yes!!
- And did you pay more than 15 rupees for your chai?
- 15 rupees?? Of course we paid more!! Much more even!
- Ah! I knew it!! You didn't go to a dhaba!!
I sense a trauma here…
I
think my parents will never forget the day I threw a fit in Rajasthan because we had to pay 150 rupees for a watery chai in a tourist hotel by the side of the road!! After that our driver only took us to the shadiest places, where you get the best chai! On top of this, if there is one safe thing to have in India, it is the chai, boiled and boiled again…
And here is what happens when foreigners go get a chai in a dhaba in a small town of Madhya Pradesh (they are fixed like if they were coming straight from Saturn):
And here is what the dhaba down my building in Mumbai looks like:
08:00 Posted in Expatriation (in India and in other countries), Funny things about India in photos, Incredible India!, Travelling (in India!) | Permalink | Comments (0) | Tags: india, madhya oradesh, chai, tea, dhaba |
Facebook | |
03/30/2013
I was recently asked if Indians still eat in banana leaves and with their hands. About banana leaves I am not sure, but I think they pretty much do in villages, at least in South India. As far as eating with their hands they certainly do and it won't change so soon. And I don't see why it should change anyway! It is super funny to toy with your food before gulping it, and it's a good way not to burn your tongue. And it is a good way to also avoid dish washing, water and washing liquid wasting!
There are other ways to avoid burning oneself... For instance when coffee is too hot, they pour it in the saucer. And they drink from the saucer! And why not?? ;)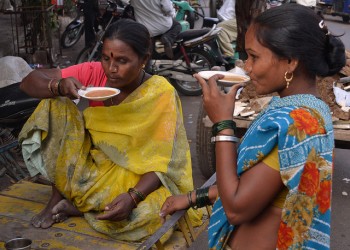 08:00 Posted in Funny things about India in photos, Incredible India!, Non-senses | Permalink | Comments (0) | Tags: india, tea, saucer, coffee |
Facebook | |
12/25/2010
Vincent and I went to visit a tea factory in Darjeeling. We could not understand the explanations of the guy regarding the different kind of teas. You might look dumb if you go to Darjeeling and you are not able to answer any question regarding tea… So I decided to make some research!
07:52 Posted in Incredible India! | Permalink | Comments (0) | Tags: india, darjeeling, tea, black tea, green tea, white tea |
Facebook | |