03/30/2014
By a sunny (and not yet too hot) afternoon I went for a walk in a 'village in the city', a haven of peace in the bustling metropolis, a jump from Mumbai to Bombay, a flashback one hundred and fifty years ago...
More specifically I went to Girgaon (or Girgaum) and in Khotachiwadi. There you can see bungalows (28 of them are left of the original 65) Portuguese-style – the Portuguese, let's not forget about it, were the first foreigners to land in Mumbai (in 1536) and it is only in 1661 that they gave it away to the British as part of the dowry of a Portuguese princess marrying a Britisher.
And chawls or wadis, cluster of three-four story buildings around a central open courtyard (more about these structures in my next post).
All of these about to be replaced by modern towers...
And it's a pity...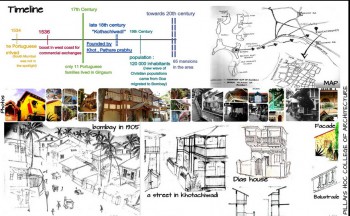 Sources: image above (http://www.flickr.com/photos/urbzoo/8028823230/) and http://khotachiwadi.urbz.net
08:00 Posted in Travelling (in India!) | Permalink | Comments (0) | Tags: india, mumbai, girgaum, girgaon, bombay, wadi, chawls, portuguese-style, portuguese, bungalows |
Facebook | |