01/09/2017
Several people have asked my opinion on how to travel in India right now because of the currency situation, here is my humble advice: come with patience!

If you have booked with a tour operator or directly from not-too-bad-hotels, you can pay by card and keep your small change (which is worth gold) to buy a bottle of water, a chai, a rickshaw fare etc.

But since it is still handy to have some cash with you (especially in India), here are some ideas to get rupees:

1. Exchange:
Legally, foreigners are allowed to exchange only 5,000 rupees a week – which is enough pocket money if you pay for lodging, transport (bus/plane/train) and beers by card. Technically, no one can check how much you exchange per week unless you go to the exchange bureau of a chain.

2. ATM:
The other possibility is to withdraw in an ATM, within the limits of 2,500 rupees a day (although apparently the limit has been increased to 4,500). The exercise here is to identify the ATMs that have the cash. The following site can help locating them: https://cashnocash.quikr.com/

3. Bank counter:
There is the option to go directly to the counter at the bank. Here again you must find the Bank that has cahs and it's not easy easy. Then wait in line. And with a little luck you can withdraw 24,000 rupees (per week, wherever you withdraw, at the counter or the ATM).

4. Indian SIM and apps:
Finally you can take an Indian SIM that will last 3 months. It is not always the easiest experience, but it does get you into the swing... (Apparently in September the Government agreed that all the tourists with an e-visa will automatically receive a SIM card but I can't seem to find out whether it has actually been implemented). You need to come ready with a photocopy of the passport, your visa and a photo. Plan to activate a card with roaming (if you change State) and data to have wifi. And if you get that far and you have previously downloaded the app PAYTM (and recharged your account) you should be able to make a lot of payments with your phone! Uber or Ola app can also be useful.

Good luck!
08:00 Posted in Expatriation (in India and in other countries), Incredible India!, Travelling (in India!) | Permalink | Comments (0) | Tags: india, tourist, tourism, cash, demonetisation, rupees, new notes |
Facebook | |
12/26/2016
One find morning, the country awoke without cash (cf this post). The notes of 500 and 1,000 rupees (about 8 and 12 euros), the biggest ones, had no more value. BOOM. And the citizens had a few weeks to deposit their 'old' notes at the bank. New notes, of 500 and 2,000 rupees, came quite fast but in infinitesimal quantities – which is either voluntarily or not from the Government, we don't know). So here's what I realized when 'surviving' with 300 rupees for 2 weeks:

I pay my vegetables to the street vendor in cash. My only option was to go to the supermarket, cutting off a source of income to my local dealer (which would in turn have to pay his supplier to continue to receive his vegetables and we can go back up to the seeds provider like this, in the farming chain!). Fortunately, in less than a week, my street vendor had installed the Paytm app and I can now pay him via my smartphone.
I had to stop taking rickshaws and get only Uber / Ola.
I stopped tipping people – small change is worth gold. And it hurt me quite bad when I couldn't give anything to the old man in the supermarket who carried my bags and dug up a little thingy for my son.
I stopped paying my cleaning lady until she opens a bank account.
I attended a shopping Sunday evening in a fancy Mall ten days after the fateful date of 'demonetization'. And while I had heard a lot about people holding on to their money in fear of what was coming next, it was just madness in H & M and Mark & Spencer where card machines overheated, and lines were endless. The rich could still buy clothes, I was reassured ;)
I was told this move was a disaster for weddings (and we just entered the wedding season) which are all paid in black cash and yet it is full party in the wedding ground of my neighbourhood almost every night.
I had the chance to visit the bank to deposit some old bills and witness the chaos, it's crazy.
I got really upset at the post office because, although it is public institution, they don't have a card reader and don't accept cheques. (Besides Indians are not fans of cheques especially when they are on the receiving end – for example if you pay by cheque at a Mothercare shop, they deliver you the product only that once the funds have been credited because there are too many blank cheques.)



In short, it's a mess, we hear about everything and anything about it, and it is especially the poor who have to pay (he he) but at the same time it is a new opportunity for Indians to demonstrate their resourcefulness (or jugaad as we say here) which is simply amazing.

PS: It is heard nowadays that the Government wants to go Digital. Though it is a seducing idea, let us not forget that 30% of the population still can't read, 30% still doesn't own a phone, 85% doesn't access the Internet on their phone, 900 million still leave with less than 2$ per day.
The daily view from my office, the line one hour before the ATM opens...

08:00 Posted in Expatriation (in India and in other countries), Funny things about India in photos, Incredible India! | Permalink | Comments (0) |
Facebook | |
11/07/2016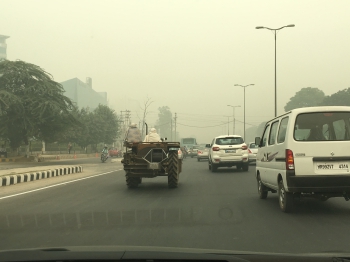 Gurgaon, in the post-Diwali cracker induced pollution fog (3 days later and the air is still hardly breathable)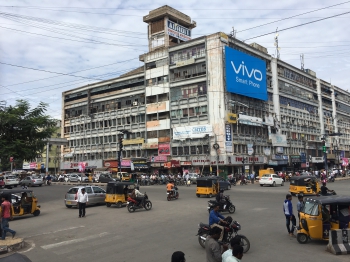 Hyderabad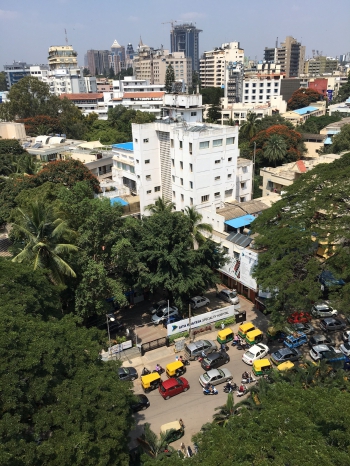 Bangalore
08:00 Posted in Expatriation (in India and in other countries), Funny things about India in photos, Incredible India!, Travelling (in India!) | Permalink | Comments (1) | Tags: india, pollution, cities, gurgaon, bangalore, hyderabad |
Facebook | |