03/05/2018
The weekend had started well...
The 11-hour day train journey with BabySamourai had proved less tiring than expected, and we had even arrived half an hour early! (Since this is rare with Indian trains, we were not prepared, and since in most trains, there is no announcement, we almost miss the stop!) Finding a taxi to climb from Abu Road to Mount Abu had been very smooth, even at 9 pm. And after a 40-minute ride, we were at the hotel!
This is where the disenchantment began... The beautiful pictures of a large garden and mountain view on the website did not let imagine a small garden "under maintenance" right next to a busy road. The price of the room did not suggest the lack of a functional shower or clean sheets (the guy had to come back three times to bring us a decent duvet cover). Given the place I fully agreed when my favorite Indian decided to lock the door for the night. Although this did not prevent a guy from barging into our room at two in the morning! It was a drunk neighbor who had been fighting outside with his wife very loudly for more than an hour... When you have spent more than 100 euros per night, you have imagined a peaceful haven. Landing in a shabby hotel is quite a shock! Especially when you learn that breakfast is not included, even though you remember very clearly having selected the option with breakfast.
I did not want to let myself surrender to despair so, as soon as I got up, I looked for things to do in the area – it might be useful to add that I had booked this weekend on a whim, finding the word "Mount Abu" romantic. I turned to the Lonely Planet and Oh My God!
"The town is certainly unlike anywhere else in Rajasthan, a green, serene and welcome retreat during summer from the scorching temperatures and arid beige terrains elsewhere." So far so good. "Gujarat and Rajasthan's favourite holiday gateway, Mt Abu is a particular hit with honeymooners and middle-class Gujarati families; unlike the hill stations of northern India, you won't find many Western travellers here." Here it is either very good news (I have found a lost paradise) or very bad news (there is a reason why foreign tourists avoid this city). And then this story with Gujaratis... One must know that, according to the cliché, they have money to throw by the windows, nowhere to spend it (so they don't have high standards in terms of accommodation), and as soon as they leave their native Gujarat, a "dry" state (where the sale of alcohol is forbidden, in tribute to Gandhi), they aspire to get drunk and make noise. The locals accept it, the cash inflow compensating the inconvenience ... And then, according to our local guide, as they do not see many tourists at home, as soon as they spot some at Mt Abu, they are more interested in the Caucasian passer-by than by the monuments. Which would explain all the requests of selfie I got...
"Sunset point is a popular and lovely place from which to watch the brilliant setting sun, though distinctly unromantic unless you find that being thrust red roses, bags of peanuts, or Polaroid cameras gets you into a loving mood." Not the sexiest description of a place… In one day, we visited the beautiful temples of Dilwara – where we were not alone! – all in marble, a specialty of the region; climbed to the temple of Guru Shikkar, the highest peak (1,722 meters) of Rajasthan (in the Aravalli range); wandered in an abandoned haveli in Alchagarh; and played Holi with a Gujarati family that was passing by. After this beautiful day just a tad suffocating because of the crowds, back in our sordid hotel, we decided that the two remaining train tickets available for the next day (instead of our tickets booked but not yet confirmed for the next to next day) were a sign of fate, and we shortened our stay ! But we still had a whole day to occupy ...
"Trekking. Unused by most local holidayers who remain firmly enchanted with the pedalo-and-pony attractions of the town, Mt Abu's hiking trails are many and various, leading you in just a few minutes into untouched wilderness. Here, you will find tranquillity, solitude, wild flowers and birdlife in abundance – as well as the odd snake, leopard or bear." Everything is there: nature, no Indian tourists. We booked immediately! And so, it is wearing ballerinas and ignoring the age of my son (3), I went on a 4 hour trek. And it was fantastic! A complete reconciliation with the region…
If I was to do it again (and who knows?), I would choose my stay better (perhaps the Connaught House or the Krishna Niwas, or a heritage property: Mount Abu was apparently the holiday gateway of all the kings of the region (Rajasthan and Gujarat) and each king had his own property, leaving behind a total of some 50 heritage places. I did not quite understand if they were coming all at the same time, like full summer party, or if in turns.) I would avoid a long festival weekend, Diwali and the summer (too packed), and the winter (too cold). And I would only go trekking!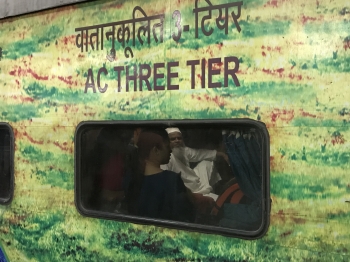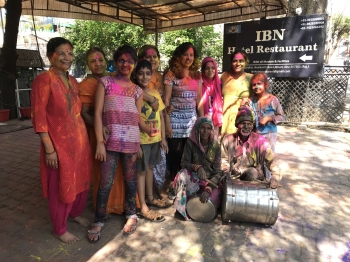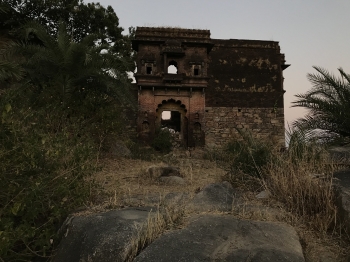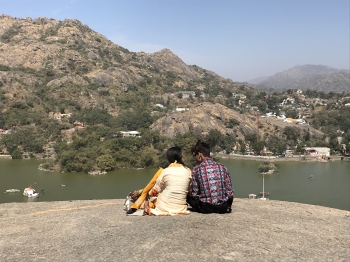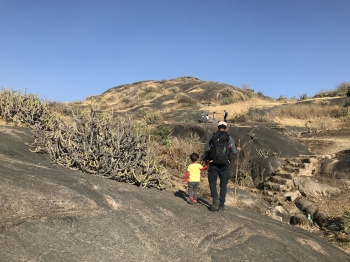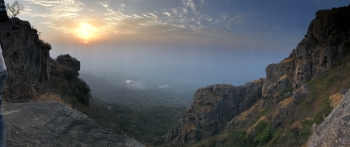 08:00 Posted in Incredible India!, My stories in India, Travelling (in India!) | Permalink | Comments (0) | Tags: india, rajasthan, mount abu, abu, aravalli, hotel, train, trekking |
Facebook | |