11/05/2011
…I arrived in India…
Here are 2 dialogues quite typical when non-Indian people ask me for how long I have been in India. The 1st one is usually with a non-Indian who 1. has never been in India, 2. visited India on holidays and 3. has just arrived in India. And the 2nd is with a non-Indian person who has had some brush with India…
- 5 years?? You must be in love with India no?
- Euh… No. I don't adore her, I don't hate her, I have just found a (small) place here.
- 5 years?? How did you do it?? (meaning, how are you still holding on?)
- Euh… I have found a professional and affective balance here. And after 5 years of introspection – I spend a lot of my time with myself! – I think I may have even found some kind of inner balance!!

To celebrate, I decided to select a picture of every place I have been to during my personal trips. It took me a lot of time but gave me the opportunity to kind of travel there a second time and moreover to realise that I have seen some out-of-this-world things!! Maybe it is also why I have been staying ;)
So here is my patchwork (there is an album (see on the right) where the detail of the places where the pictures were taken is mentioned); there are pictures that meant something to me, not necessarily very touristic and none has been photoshoped:
http://www.indiansamourai.com/album/india-in-100-pics/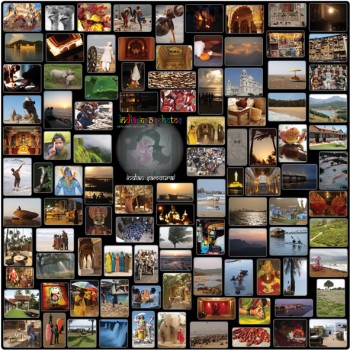 Click on the picture to enlarge it.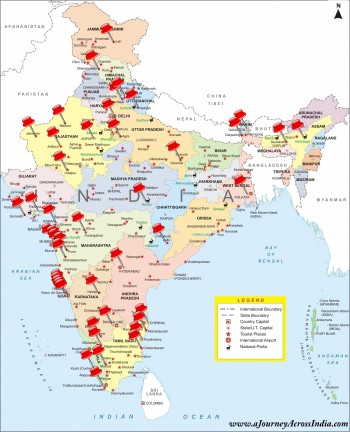 Places I have visited out of personal interest...

08:00 Posted in Expatriation (in India and in other countries), Incredible India!, My stories in India, Travelling (in India!) | Permalink | Comments (0) | Tags: india, anniversary, pictures, india map, places visited |
Facebook | |
09/07/2011
In India, it is important to choose your building well… And its inhabitants!! Because what they call "society" will not let you free… All the bored people (the retired ones, the housewives, the servants, the watchmen) will find your life worthy of being watched…
This is how, in Pune, I had a hard-time finding a "society" that would accept a non-married French-Indian couple. The landlords were cool about it. But they had to ask the permission of the "society"!!
Then, once I arrived in Mumbai, I moved into a Sindhi "society" – Sindhis are the Hindus who came from Pakistan after the partition. Nothing special to say apart from the fact they all were Sindhis.
And then, when I shifted to my new building, I was very happy to discover a catholic "society" - I thought that they would be a little less "conservative" that the others but well, not really. In short, in my building, there are only Rodriguez, Pereira, Rebello etc. families and this makes me laugh every time I see the board with all the names! And then, one fine day, I get a note from my "society" stating that the annual meeting took place and in introduction: "after praying, we started the meeting…" Would be interesting to try that in France!
We are also regularly invited for masses (for birthdays, deaths etc) in our small garden. At least this brings people together...
The most constraining "societies" might be the Muslim ones, from what I heard. A French friend was accepted in one of them only because her husband was Muslim. And in another one, the French guy promised not to bring in alcohol nor pork.
No judgment here. It is just a little surprising, at the beginning.
00:00 Posted in Expatriation (in India and in other countries), Incredible India! | Permalink | Comments (0) | Tags: india, societies, religion |
Facebook | |
06/09/2011
Best overall locations:
Singapore, the United Arab Emirates and the United States are the three countries to emerge as best expat locations overall in our expat survey.
The United Kingdom and France were amongst the lowest rated destinations, scoring poorly on their levels of luxury and accommodation.
Earning and spending:
Expats spend more whilst still being able to save.
Over half (58%) of expats surveyed save and invest more than they did in their country of origin.
Comparing their country of residence to their country of origin expats spend:
· 52% more on food.
· 49% more on shopping.
· 45% more on socialising in their new country of residence.
Where six-figure salaries are the norm: Expats based in Hong Kong and India have the highest salaries in the world; with close to half earning more than £100,000 p.a. Interesting thing to discuss in the beginning of next year with my boss !!
The highest paying professions were in finance and management with 43% of people in these industries earning a six figure salary.
India scores quite well, 9 out of 14. This is due to the fact that expats in India can save (they are paid high to face hard conditions?? ;) ). For instance a V.I.E. (kind of contract for young expats) will get 2 360€ per month in Mumbai and 3 000€ in New York. So ok renting a place in Mumbai is super expensive but the rest is really affordable…
Another thing to notice is how long people stay in India: 1 year!! So India actually ranks very high in "luxurious" which is mainly related to employing staff. Apparently having a driver and a maid won't make anyone stay in India though!!
Source: http://www.offshore.hsbc.com/1/2/international/expat/expat-survey/expat-existence-report-2008
08:06 Posted in Expatriation (in India and in other countries) | Permalink | Comments (0) | Tags: india, expat, earning, ranking, best destinations for expatriation |
Facebook | |