07/21/2011
Me, who managed to mess up with 2 ready-made preparations of chocolate cake (I somehow succeeded in making them burn inside only - apparently my owen and I need to work together in a better way), I threw myself, let's be crazy, in the preparation of "Goan sausages".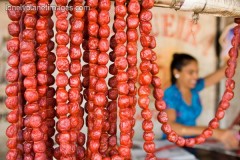 For the story, I have already messed up with this preparation. The result was an awfully spicy thing, which ended up in the dustbin. But I persist and sign.
So here we go, for cooking handicapped like me, you need (for 1 very hungry person who really liked the recipy - I do not point at anyone, especially not me - or for 2-3 people along with the « apéritif »):
§ 1 package of very ready sausages (please don't laugh!),
i.e. about 200 gms.
PS: There is also an option to cook them yourself: http://www.bestgoadeals.com/Goan-Sausages.html (content of the said sausages: Pork, vinegar, garlic, salt, spices (Piri Piri masala, red chilly, cumin seeds, nutmeg, turmeric, cinnamon etc.), ginger).
§ 2 large onions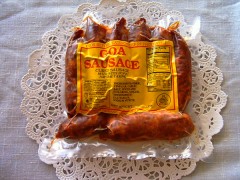 § 3 large potatoes
1. To cook in oil the onions and potatoes.
2. When is it almost ready, unskin the sa
usages - ha? It sounds obvious?? I think that it why my first preparation was not good!!
3. To cook the sausages 5 minutes with the other stuff, stirring all the time.
PS: One can always add spices but here, I can not help
…
And paf!!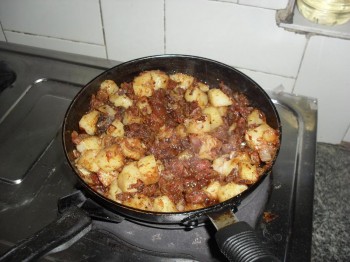 08:05 Posted in My stories in India | Permalink | Comments (0) | Tags: india, cooking, recipe, goa, goa sausages, chorizo |
Facebook | |