03/04/2013
I managed to find a place a few days before flying back to Mumbai for good and after coming back, I quickly settled in. As you cannot have it all, I have an incredible view of the sea and the slums, a great ventilation in the apartment and no vis-a- vis. But I also have smells of fish drying coming from the adjacent fishing village (though to be honest it is not worse than anywhere else in Mumbai - see my post) and the noise of the rickhsaws that rattle all day long and the bells of temples of Hanuman that ring here and then. Incredible but true I have quite accommodated to the noise and smells. I just need to have a look through the window and be okay with everything...
I can even walk through the slum, reach the beach and walk up to my office – but only at low tide!
I just hope that the day where I will smell of dried fish someone will have the kindness to let me know...
I have Indian friends who are not so enthusiastic about my neighbourhood, to say the least. But I love the "popular" side of it, somewhere between a fishing village and a slum. There is not a day when nothing happens. Not need of TV, there is always something happening down the window.
The French bourgeois girl of a Paris fancy neighbourhood that watching Indians going to the public urinal at the bottom of her building makes ecstatic...!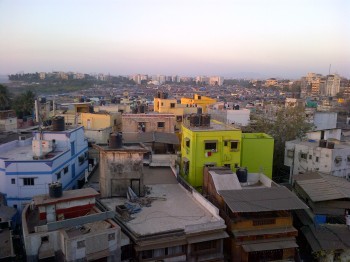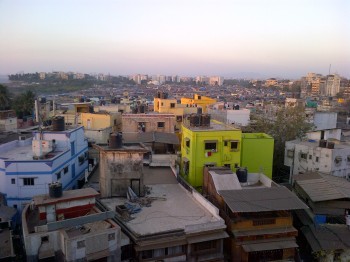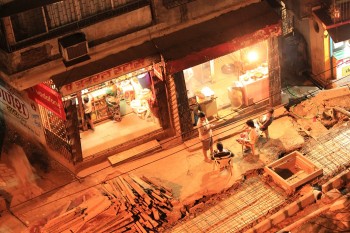 08:00 Posted in Expatriation (in India and in other countries), My stories in India | Permalink | Comments (0) | Tags: india, mumbai, khar, fish |
Facebook | |
03/02/2013
January 2012. I move to Delhi. For life. Or not. At least for a long time. But as often when planning, life decides otherwise. But I don't know it yet...
January. Norman (my cat) and I land in Delhi, in the cold but happy!
I find an apartment, I have furniture made, I decorate, I struggle to get gas cylinders, I fight to get the internet, I survive the turbulences of electricity and I am finally at home. Or rather we are, I and my favorite Indian.
I set up the local business unit with all the difficulties one could think of and try to manage as best as I can my other responsibilities - not easy to do two front at the same time! I spend every Saturday working. But it is not so bad since my favorite Indian is also starting his own business and doesn't really have any time left for us...
June. The extreme heat has settled and even ACs have given up fighting it. I now have a puppy a home – some people make babies when their couple crumble; I preferred taking it easy and started with a Rottweiler...
My best friend arrives from Malaysia and stays with me for two months. Her being there was a blessing that helped me go through the breaking-up months. And beside we rediscovered each other and I discovered a soul mate… A year dedicated to friendship as I also became true friend with my gang of Indian girlfriends who met me every Friday night to drink Long Island Iced Teas.
And then the travelling starts. Professional (especially overseas) travel plus my need of big empty disconnected spaces – I find the most such places in India: Spiti Valley and the Andamans Islands. Incredible journeys. And then Spain, France and Portugal.
October arrives. The break-up is consumed and I don't feel as lost as I had always thought I would. I had met him almost immediately after arriving in India and since I had built a life around him, I always thought I would jump on the first plane to France if things would end between us. Quite not. I realised I could still live in India without him.
The last months of the year are filled with almost weekly trips to Mumbai which makes my return in January almost natural – as if this year in Delhi had just been a long trip.
January 2013. Despite being really sick, I finish up my professional commitments in Delhi (and there are many in this beginning of the year) and sell all my furniture in a few days.
And one fine evening, Norman (my cat) and I land in Mumbai, in the warmth and happy!
I rediscover Mumbai, parties, concerts, sunset happy hours, friends, running on the beach...
I learn a new job – I definitely cannot say that I am getting bored in this company!
It kind of took me two months to digest 2012 and get back to writing.
An intense year where I feel like I "broke" everything (only to start rebuliding!). I learned a new job, discovered another Indian city, met great people, rediscovered the feeling of freedom you get when driving a car, travelled, lost ten kilos. It was super tough but I survived. And I got so much!
A year 200% IndianSamourai!
India, here I am and here I stay (at least for now).
Photo taken in Portugal in December 2012
08:00 Posted in My stories in India | Permalink | Comments (0) | Tags: india, delhi, mumbai |
Facebook | |
01/12/2013
Here comes the time of the big move...
The day before I leave, I meet my girlfriends of the Long Island Lady gang for a final episode of Sex & the City in Delhi.
But before that, I finish packing a few cartons – I've already seen the packers in action: the moment you turn your back they have packed everything, even my cat's disembowelled old stuff mice, so better everything is a bit organized before they arrive...
I also pack my plants in my car, which is also going to travel by truck to Mumbai.
And I start my journey to the "club" with my bamboo as a co-pilot. And today I would certainly make good use of a co-pilot since my GPS does not seem decided to cooperate... Finally it shows me a road, and we (my plants, the GPS and I) get stuck in traffic.
And then all of a sudden my GPS demands me to take a left. A look at the area and the size of the lane I decide that my GPS has gone cuckoo and I'd rather continue straight. But no, it makes me turn back...
So I obey (I really have no idea of where I am right now) and take the direction initially indicated. As expected I land in a popular neighbourhood, with tiny lanes where my small car hardly fits and gets stuck between vegetables carts. It smells trouble this story!
On this the madam of the GPS wants me to take a lane that is even narrower and not lit up at all. Now the story stinks!
I rebel once more and take a left...And I reach in dead-end. Good luck to do a u-turn without damages... I try for a good ten minutes. I sweat like a pig with the effort and eventually I decide to go backward, even if it is not gonna be an easy one either… And there Superman arrives. I am not kidding. A guy (which looks like Sami Naceri, the French actor) arrives on a bike, gets down, asks me to vacate my car: I don't know how to drive my car and he is going to do it for me!
It is important to place the context... With the rape and murder of that Indian girl – of which I have deliberately not spoken – everyone has become a little (a lot) paranoid in Delhi. So even if I'm not scared, being stuck at 9: 30 pm in a dark alley with four guys around, with a phone battery almost dead and completely lost, let me tell you that I am not too proud...
After a few (many) bangs right and left my hero gives up on the u-turn and decides to go backward. Not a smooth one...
And then he leaves with my car! I run a little behind; he stops and demands me to sit on the passenger seat: he will drive me. But something is worrying me: how could he not notice that the passenger seat was occupied by a bamboo??
I'm not too confident about the whole thing but what choice do I have? I have no idea of where I am and driving in this area with hideous and tricky lanes would make me freak out...
And anyways, it is in my nature to be very trusting...
So I get in and sit in the back, still not reassured...
He takes a turn in the lane originally indicated by my GPS – I have the mind to turn on my GPS to know if he would kidnap me!
And then bam, a gate closed. My driver honks, waits, calls out, honks. As he is about to go for another vicious u-turn, a granpa arrives with the key. But grandpa is not really keen on opening the colony gate at this hour. Well, let's see if he can resist the supplications of a desperate French girl… The gate opens…
My driver now refuses to let me drive... The GPS tells me that we are really close. He drives full speed. We hit speed bumps big time. My plants are all over the place. Is he drunk?
He insists to park my car and park it like a pig. But hell. I have the wisdom (!) too shut up!!
As I thank him profusely and offer to compensate he refuses and hands me his business card!
To finish the story, I run to see my friends at the "club". And this is not a superlative. I pass the hut of the guards in full sprint – so fast that they could not stop me for registration. I also run up the stairs and gulped down my friend's LIT! Then I am ready to tell my story... I can barely speak due to the stress (of that driving in the narrow lanes and of that impromptu driver story)...
After the 3rd cocktail I start wondering about the drive back. Maybe I could call that dude and ask him to drive me home?! ;)
I came back safe and hallucinated by my crazy last night in Delhi! Which I finally left on a beautiful note!
08:00 Posted in Incredible India!, My stories in India | Permalink | Comments (0) | Tags: india, delhi, safety, women, rape, murder, driving |
Facebook | |