09/05/2011
Speaking about yoga, there is one that can NOT stand it. My cat.
He starts by scratching the yoga mat. Then he lies down on the middle of it. Then he comes and hits his head against mine when I am an all four.
When he is done doing all that, he attacks me, and not with the claws, the teeth!!
And apart from locking him up in the bedroom, he will keep on attacking me; happens every time…
And he never ever attacks me otherwise! Funny no?
08:00 Posted in My stories in India | Permalink | Comments (0) | Tags: india, yoga, cat |
Facebook | |
08/02/2011
Like everything else (dentist, gynecologist), I was scared at first. But hair is ok, you can take the risk of a damage, it will grow back…
So it all started in Pune, in a small salon recommended by a friend, Gazelle. It all went well, especially when the bill came and it was somewhere around 500 rs (about 10€ at the time)!! In Paris, they would charge me no less than 50€ and even more because I have long hair!
Then I moved to Mumbai and I did not have a hair cut for a long long time till I met Emilie who recommended her salon, E…. Well that was nice also, at first. And decently priced, about 650 Rs (also 10€, because of the change rate).
Till the day when I decided I deserved a little extra and could get a hair massage… The guy (a young chap) came was totally nonchalant, pants on the knee, shirt half tucked in half out, shambling. Mmmhhh let us not be French and judge on appearances… The guy would not speak English which is pretty unusual in this kind of salon and in this area. So, to make a long story short, the guy was sending sexual vibes all along (especially when he put his fingers in my ears and touched my boop on the pretext of massaging my arm), asking weird questions, giving weird looks. So much for the relaxing session…
I decided I did not like this salon after all, having perverse employees, and it is always packed, they blast the music AND the TV and the floor is always full of hair – and as it is I am disgusted by dead hair. Well but my hair grows and unless I wanna look like a sadhu, something had to be done. And here I spotted the B… salon. I am not chauvinistic at all, but why not try the French experience?
The salon is big, well organised and half empty at 5:30 PM. While you are getting your hair washed (and massaged), the chair massages your back and legs… I have not asked for the price but I can already tell it is worth it… And then comes the hair dresser. I explain to her in English what I want – and I think this is the vocabulary the most difficult to remember (scaling, trimming etc.) since I use it only twice a year. But she gets my point. And then she asks where I am from and she smiles. I think because the brand is French but no, she is also French!! The ultimate hair dressing experience!!
Being a shy person, the hair-dresser has always been a dreadful experience. It seems, at least in France, that you HAVE TO chitchat with the guy all along the cut. Me? Talking to a stranger? Saying hi is enough! So I dragged people along and it is probably only last year that I went alone for the first time – but hey, I did not talk much! All this to conclude that yesterday I spent one hour discussing India, guys etc. with my hair dresser!!
I paid 1 850 Rs (around 30€) because she was a senior hair-dresser, which is still half of what I would pay in France and I had my first really enjoyable hair-cutting experience!!
08:00 Posted in My stories in India | Permalink | Comments (0) | Tags: india, mumbai, salon, hair-dresser |
Facebook | |
07/21/2011
Me, who managed to mess up with 2 ready-made preparations of chocolate cake (I somehow succeeded in making them burn inside only - apparently my owen and I need to work together in a better way), I threw myself, let's be crazy, in the preparation of "Goan sausages".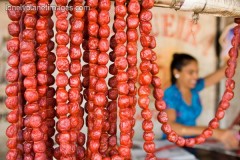 For the story, I have already messed up with this preparation. The result was an awfully spicy thing, which ended up in the dustbin. But I persist and sign.
So here we go, for cooking handicapped like me, you need (for 1 very hungry person who really liked the recipy - I do not point at anyone, especially not me - or for 2-3 people along with the « apéritif »):
§ 1 package of very ready sausages (please don't laugh!),
i.e. about 200 gms.
PS: There is also an option to cook them yourself: http://www.bestgoadeals.com/Goan-Sausages.html (content of the said sausages: Pork, vinegar, garlic, salt, spices (Piri Piri masala, red chilly, cumin seeds, nutmeg, turmeric, cinnamon etc.), ginger).
§ 2 large onions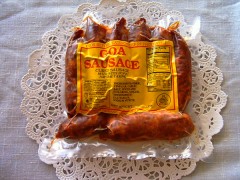 § 3 large potatoes
1. To cook in oil the onions and potatoes.
2. When is it almost ready, unskin the sa
usages - ha? It sounds obvious?? I think that it why my first preparation was not good!!
3. To cook the sausages 5 minutes with the other stuff, stirring all the time.
PS: One can always add spices but here, I can not help
…
And paf!!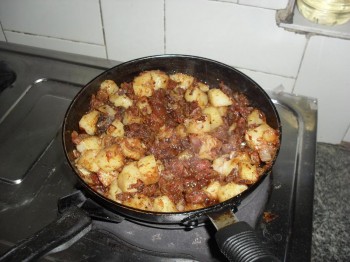 08:05 Posted in My stories in India | Permalink | Comments (0) | Tags: india, cooking, recipe, goa, goa sausages, chorizo |
Facebook | |